WHY IS INCLUSION IMPORTANT?
In order for an organisation to be successfully diverse, they need to be inclusive and that means creating a space that is safe and welcoming to all people.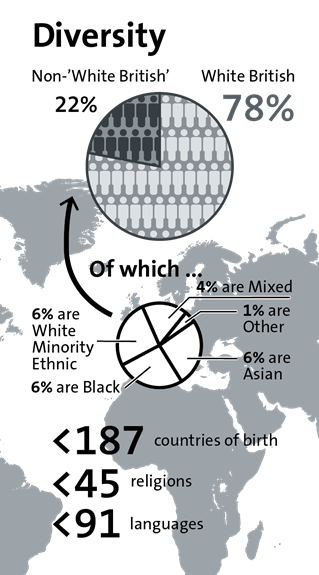 Truly inclusive workplaces encourage and empower all employees to contribute. Inclusive teams feel valued and supported in their everyday work. An inclusive employer will do everything they  can to ensure everyone:
Is treated respectfully
Feels safe and supported
Is included and heard
Inclusion is fundamentally about individual experience and allowing everyone at work to contribute and feel part of an organisation.  The CIPD webpage 'Building Inclusive workplaces' highlights:
"While there has been recognisable progress in diversity in recent decades, a focus on increasing diversity alone falls short of tackling the systemic challenges around workplace equality, personal bias or exclusionary culture. Hiring a diverse workforce doesn't guarantee that every employee has the same experience or opportunities in the workplace.
Inclusion is what's needed to give diversity real impact, and drive towards a world of work where all employees are empowered to thrive"
How to be inclusive
To be more inclusive, organisations need to understand the state of play in their business, celebrate positive practices and take action where issues are raised. Organisations need to think about employee perceptions of inclusion and consider people management practices and line management capabilities.
Organisations need to take targeted action, creating policy and practices that create inclusion and make all employees feel welcome, valued and respected. 
CIPD (The professional body for HR and people development) have created an inclusion health checker tool to help you build an inclusive workplace. The tool asks you to select options most relevant to you situation and then tailored recommendations will be provided to improve inclusion in your organisation. 
Research suggests that there are five areas where action needs to be taken:
employee behaviour
line manager capability
senior leadership
policies and wider people management practices
organisational culture, climate and values.
Employers need to ensure jobs meaningfully contribute to the goals of the organization, but also they must offer supportive working relationships and opportunities for learning, and to lead by example with regards to having a healthy work – life balance for all. 
Useful links