You're invited to our Open Warehouse!
As well as the information below, we are hosting our first warehouse open day for you and the young people you work with to find out more about experience, qualifications and other support on offer at FareShare South West. 
15th June, 1.30 – 3.30pm at FareShare South West, Vale Lane, Bristol BS3 5RU 
Email Patrick.Ward@faresharesouthwest.org.uk or call 07587 828001 to let us know you're coming along. 
Here at FareShare South West we have been developing our employability programme – FareChance – in order to offer high quality practical work experience to as many young people as possible. 
Who is FareShare South West? We're the region's biggest food and environment charity. We rescue good, surplus food from farmers, retailers, manufacturers and other food companies, and deliver it to charities, foodbanks and community organisations across the Southwest.  We do this with help from our volunteers who sort food in our warehouses and deliver it to charities. Once there, it's made into food parcels and used to produce healthy, delicious meals for people that are struggling to afford to buy food! 
We have put together a 12-week programme – FareChance – where young people can gain confidence and self-worth, learning vital skills such as Problem Solving, Communication Skills, and Teamwork as part of our volunteer team. As well as the soft skills gained the young people also follow a structured programme of training teaching them every part of the management of one of our warehouses – this valuable and practical knowledge is easily transferable to many industries including retail, logistics, events and many more! 
The reason this programme is so successful, with over 20 young people going on to positive outcomes after only a few months with us, is the environment. Our staff and volunteers are incredibly supportive and dedicated to the success of our participants. 
Who – Young People (18+) looking for practical hands on work experience, no previous experience necessary.  
Where – Vale Lane Warehouse, Bedminster, BS3 5RU 
When – 2 days a week, can be flexible to work best for you 
What – Practical work experience with 1-2-1 support plus employability skills 
As we build towards summer, we are launching the next phase of the programme with a brand-new cohort starting 26th June! During which the young people now can access accredited training courses in Health and Safety and Food Hygiene, mentoring from experienced members of the community, one to one support with employability skills such as CV writing and Interview Tips, and team building days out.  Get in touch if you or anyone you know might be interested, and don't forget to come along to our Warehouse Open Day on the 15th – details at the top!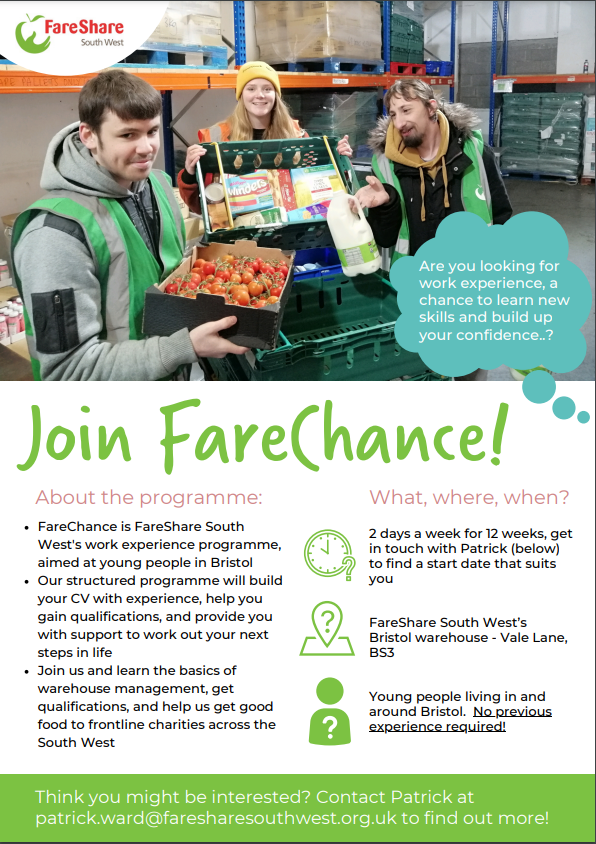 Ways2Work
For employment support professionals 
Visit One Front Door for employment support in Bristol for individuals, providers and employers. 
Ways2Work online network meeting 17 May, 2pm. Register here to get the link.
Find us on Twitter and Facebook. Email ways2work@bristol.gov.uk to contact us or unsubscribe.
Bristol City Council Employment Support: Future Bright, One Front Door, Ways2Work, We Work for Everyone, Inclusive Career Pathways – One Front Door.
You have received this email from the daily Ways2Work mailing list. Ways2Work sends emails about employment support and related services available in the West of England. Please use details provided by the original sender to ask for more information or refer customers to provision.
The content of this email is sent for information only. Bristol City Council does not necessarily endorse or support its contents. [delay +200 hour]
---
Council services: www.bristol.gov.uk/service
Latest council news: www.bristol.gov.uk/ournews
Consultations: www.bristol.gov.uk/consult
Privacy Notice: www.bristol.gov.uk/about-our-website/privacy