The Prince's Trust are pleased to announce our upcoming programme Get into Security.
Please see our programme information below and the poster attached. Anyone who is interested must be between 18-30 and pass a criminal record check.
Get Into Security with Triforce (18 – 30yrs old only)
A two-week intensive course to help you gain a FREE level 2 Award in Door Supervision and First Aid qualification. You will also receive support to apply for your SIA licence, which will also be paid for as part of the programme. This is a brilliant chance to get your foot in the door in the industry, with support to apply for jobs at the end of the programme.
Information sessions: Tues 23rd August 11am or 2pm
Taster Day: 11am – 1pm Tuesday 6th September 2022
Programme (if selected): Mon 12th – Fri 23rd Sept
Location: Bristol Prince's Trust Centre BS1 6BY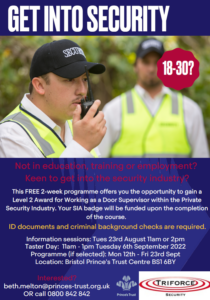 If you or someone you know would like to enrol on the programme or find out more, please contact me at beth.melton@princes-trust.org.uk.