From: Suzie Jury <suzie.jury@intecbusinesscolleges.co.uk>
Sent via Ways2Work
We are a national training provider and currently have a range of virtual placements for Traineeship programmes (online work experience) For Admin and Customer Service and Marketing.
I was hoping that you may have some young people to refer to one of our Traineeship or Kickstart education programmes, as we currently have employers waiting and placements available.
It could, for example, be a young person who has completed relevant qualifications at School/College but has no work experience on their CV. Or someone who is struggling to gain work due to employment barriers and would benefit from training and employment skills needed in the workplace combined with a work placement of 1 day per week. Some of our young people have been working from home online which are virtual placements and have been supporting companies with customer service, social media and marketing campaigns.
What has been working extremely well for us as a Kickstart Gateway, Traineeship and Apprenticeship provider is engaging young people on the Traineeship, meanwhile sourcing the employer who we then obtain Kickstart funding for and progress the Traineeship into the 6-month placement with the employer. After the 6 months of securing progression to an Apprenticeship. This has been ideal for those looking for their first job role or even those who lack confidence and workplace skills.
https://www.intecbusinesscolleges.co.uk/learners/traineeships.aspx
https://www.intecbusinesscolleges.co.uk/learners/kickstart.aspx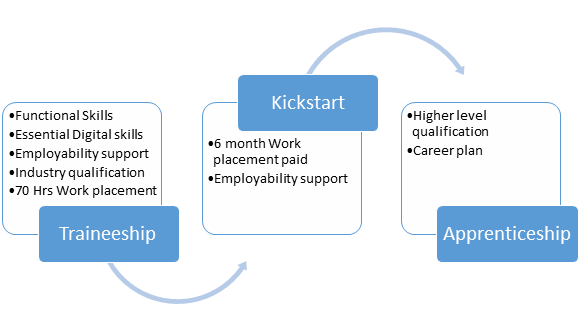 What is a Traineeship?
A traineeship is a short and flexible education and training programme that incorporates 70 hours of work experience, preparing young people for their future careers by helping them to become work-ready.
A traineeship programme is designed for people aged 16 to 24 who are missing the appropriate skills or experience on their CV, traineeships provide the essential work preparation training and soft skills, such as organisation and communication, as well as basic qualifications in literacy and numeracy if required. A traineeship also involves, job search, new CV interview preparation, timekeeping and help with filling out application forms for further education schemes as well as sector-based qualifications such as Business Admin, Customer Service, Retail, Warehousing or Event Management.
Traineeships: an overview for young people
Traineeships are an ideal opportunity for young people, aged 16 to 24, who are motivated to get a job but lack the skills and experience that employers are looking for.
Those who have been unsuccessful when applying for an apprenticeship or other position due to a lack of skills and experience are most likely be good candidates for a traineeship programme.
A traineeship can be considered as a pathway into further education programmes like apprenticeships, and the first step towards a career.
An opportunity of unpaid work experience in a sector of interest to build their CV and experience.
We have some traineeship young people whose work experience has been remote online supporting businesses with marketing and social media campaigns.
Traineeships: an overview for employers
Thousands of companies, of various sizes, are now getting involved with Traineeships and Kickstart. And there's a great reason why:
The pandemic 2020/2021 has seen a surge in youth unemployment
Traineeships will allow an organisation to shape the skills and experience of young people from their local community, helping their business as well as supporting a government initiative to help kick start a young person's career.
They could provide a mentor that will give regular, structured feedback, which could also be part of their development.
Work and study is a powerful method of skill development. The employers will receive the Governments bonus of £1,000 per learner.
https://www.gov.uk/government/collections/traineeships–2
Why choose Intec Business Colleges?
We are an experienced training provider that has been established since 1982
We will ensure that trainees have the best possible start by gaining the correct knowledge levels and experience to aid them in their future development, in their chosen career.
We will help the trainee select a suitable career programme based on their interests.
Intec will provide training to achieve a recognised sector-based qualification.
Intec Business Colleges will support and train traineeship learners to improve maths, English and employment skills.
We will support employers to complete Government Grant applications on completion of the traineeship young person's completed 70 hours work placement.
Admin required is light. Intec Business Colleges will need to check that you have the relevant health and safety insurance in place and create a short agreement for you to check and sign.
We also have work placements for the Kick-start programme
What is Kickstart?
The Kickstart scheme, announced by Chancellor of the Exchequer Rishi Sunak in his summer statement in July, offers 16 to 24-year-olds a 6-month work placement with the government picking up their wage bill. This has now been extended by the Government until March 2022 to give more young people this opportunity. The hope is that the young person will have gained the knowledge, experience and skills to put them in a good position to find employment or training.
There are several possible outcomes (not exhaustive):
The employer sees potential and puts them onto an apprenticeship which would continue their employment, learning and build their skills to be beneficial to the business. Speak to us for advice and guidance on apprenticeships;
The employer continues to employ them and take on the full cost of their wage. This could be in the same role or another within the business;
The employer has no employment opportunities for them. They will return to the job market where they can use their improved skills and experience to find another role.
Kickstart Scheme – GOV.UK (www.gov.uk)
Kickstart (intecbusinesscolleges.co.uk)
For more information, and to discover young people who we can match with your business needs, who require placement opportunities for traineeship/kick-start schemes, please get in touch.
Kind regards
Suzie Jury

IQA/Assessor

Employment Services

Intec Business Colleges
Company Number: 2494959, England & Wales

View our Privacy Policy or Unsubscribe from our communications.

We use reasonable endeavours to virus scan all emails leaving the firm but no warranty is given that this email and any attachments are virus free. You should undertake your own virus checking. The right to monitor email communications through our networks is reserved by us.

Download our Employer Guide
Kickstart Employers Booklet – V5.pdf
Traineeship Employer Flyer v1.pdf