From: Bethan Thomas <Bethan.Thomas@bristol.gov.uk>
Sent via Ways2Work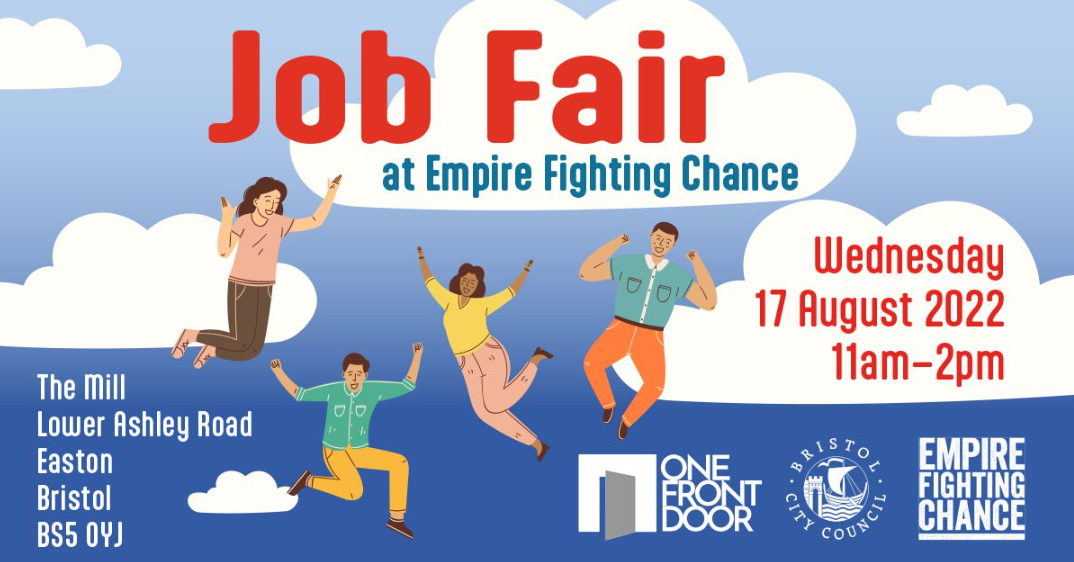 One Front Door are holding a Jobs Fair- SAVE THE DATE!
Where? Empire Fighting Chance (The Mill, Lower Ashley Rd, Easton, Bristol BS5 0YJ)
When? Wednesday 17th August 11:00-14:00.
There will be Employers there from a variety of sectors, ready to fill their vacancies and Apprenticeships! Come and find a job that suits you.
COVID vaccines can be offered onsite for anyone age 12+. First, second and relevant booster doses available. For more information and to confirm clinic details, please visit www.grabajab.net
Call us today: 0117 922 3440
Ways2Work
For employment support professionals
Visit One Front Door for employment support in Bristol for individuals, providers and employers.
Find us on ways2work to contact us or unsubscribe.
Bristol City Council Employment Support: Future Bright, Kickstart, One Front Door, Ways2Work, We Work for Everyone.
You have received this email from the daily Ways2Work mailing list. Ways2Work sends emails about employment support and related services available in the West of England. Please use details provided by the original sender to ask for more information or refer customers to provision.
The content of this email is sent for information only. Bristol City Council does not necessarily endorse or support its contents.