From: Claire Middlehurst <Claire_Middlehurst@BATHNES.GOV.UK>
Sent via Ways2Work
Hello
Are you looking for a job, training or to start a new business? Midsomer Norton Library is running an event which may help. The New Opportunities event is a chance for residents to meet experts in employment, skills development, training and business coaching.
Midsomer Norton Library
The Hollies
Tuesday 14th June, 11am-2pm
Book a place on Eventbrite or just turn up on the day https://bit.ly/3kJ85cf
The following organisations will be there:
– Future Bright www.futurebright.org.uk.
– Employment & Skills Pod https://www.achieveinbathnes.co.uk/employment-and-skills-pod
– West of England Works https://www.julianhouse.org.uk/…/employment-support-woew/
– B&NES Fostering Team
– Clean Slate https://www.cleanslateltd.co.uk/
– Adult Community Learning (Bath College) https://www.bathcollege.ac.uk/acl
– Curo Workwise Team https://www.curo-group.co.uk/…/work-wise-help-finding…/
– WE Work for Everyone https://weworkforeveryone.org/
– Cool Ventures www.coolventures.co.uk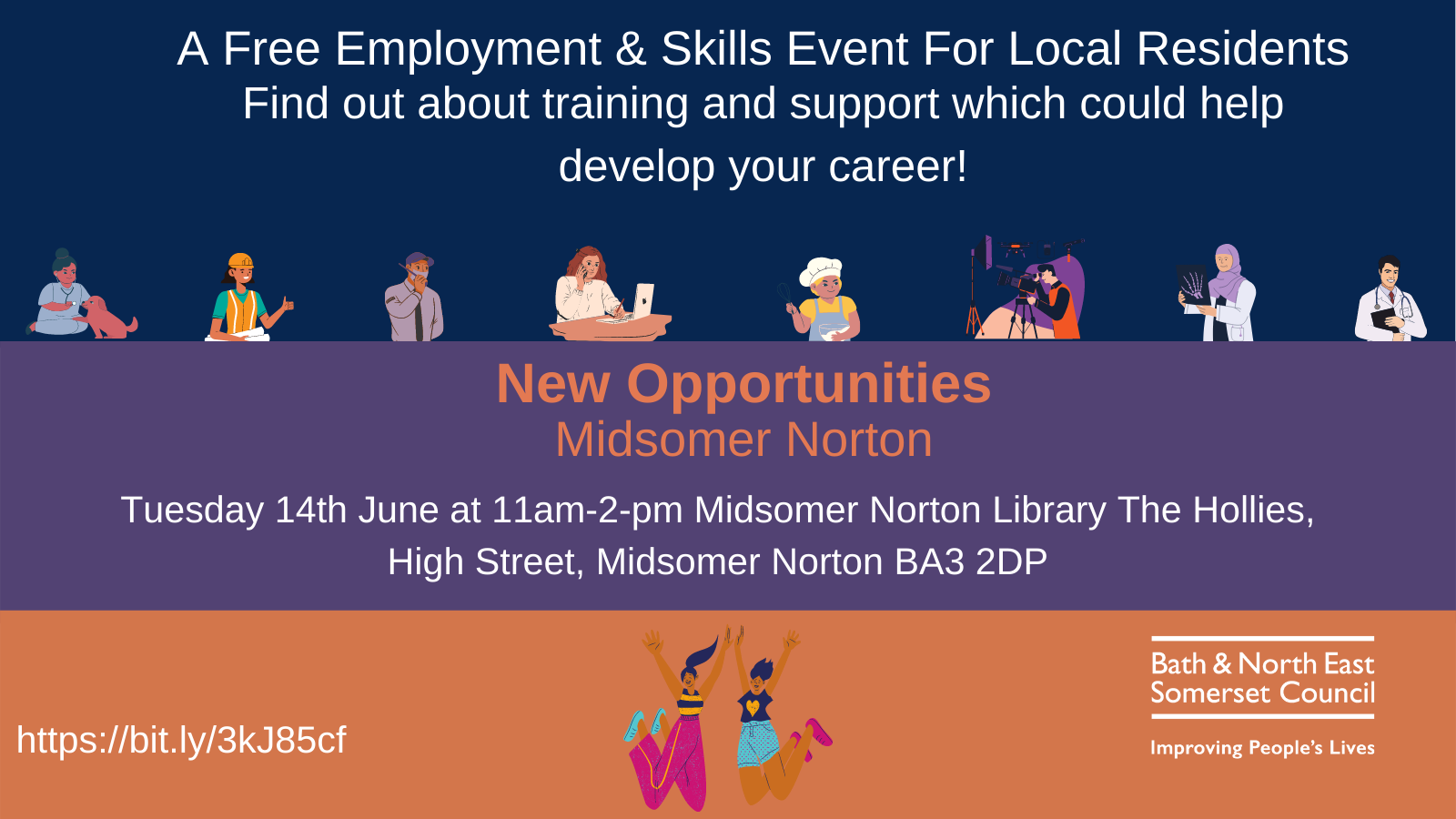 Claire Middlehurst
Team Leader
Future Bright
Bath and North East Somerset
Tel 01225 395974 or 07976852424
Email: claire_middlehurst
www.bathnes.gov.uk
Bath and North East Somerset – The place to live, work and visit
Ways2Work
For employment support professionals
Visit One Front Door for employment support in Bristol for individuals, providers and employers.
Find us on ways2work to contact us or unsubscribe.
Bristol City Council Employment Support: Future Bright, Kickstart, One Front Door, Ways2Work, We Work for Everyone.
You have received this email from the daily Ways2Work mailing list. Ways2Work sends emails about employment support and related services available in the West of England. Please use details provided by the original sender to ask for more information or refer customers to provision.
The content of this email is sent for information only. Bristol City Council does not necessarily endorse or support its contents.