From: Amy Cox <amy@thebirchcollective.co.uk>
Sent via Ways2Work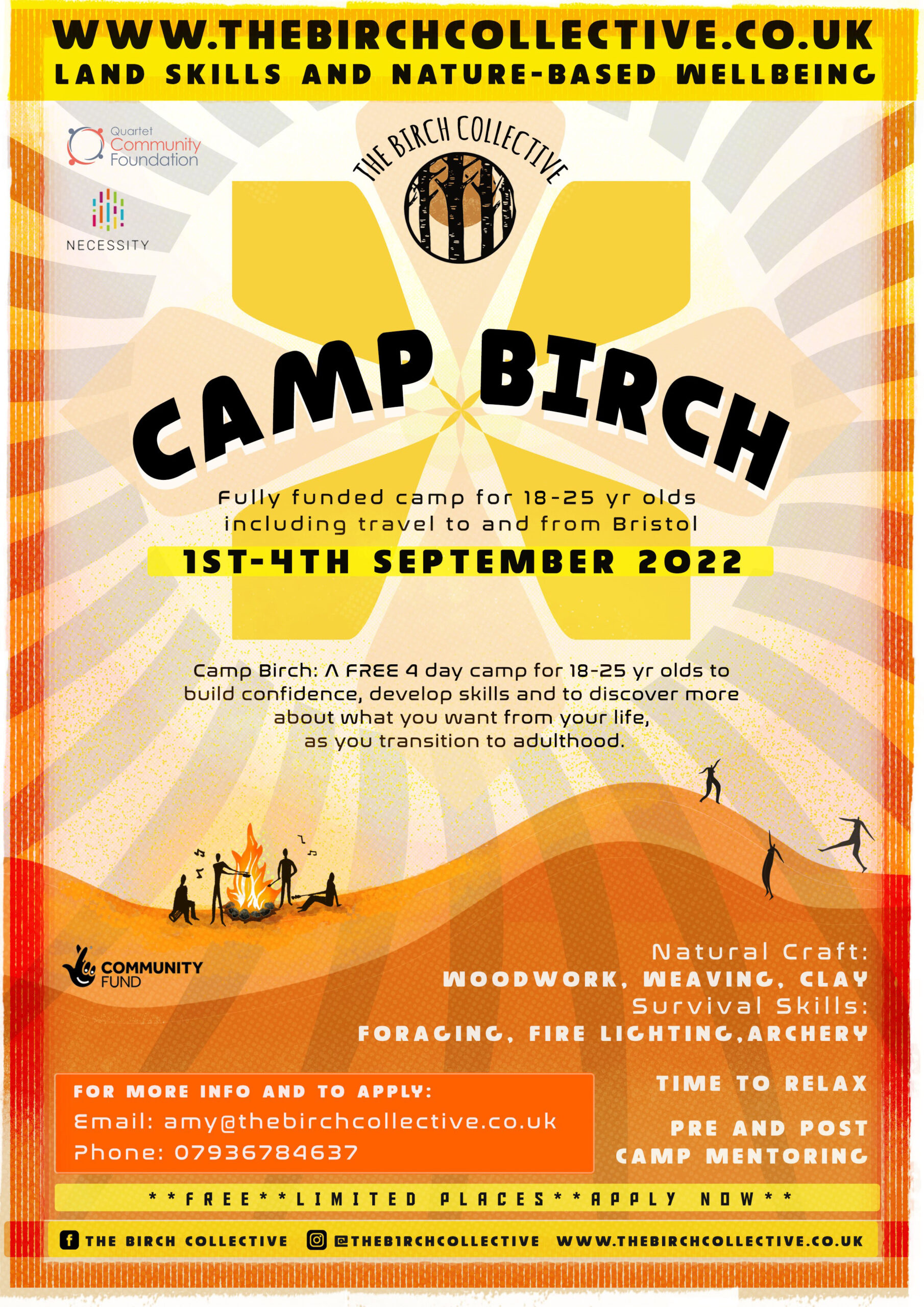 Hello all,
This is a little email to remind you that you only have 2 weeks to make any referrals for Camp Birch, our fully funded wilderness skills and nature immersion camp for 18-25yr olds in September 2022.
SPACES LIMITED TO 12**FREE**APPLY NOW*
What:
A safe and inclusive 4-day camp for 18-25 year olds to try something new, build confidence, and have a moment to pause and reflect on this transitional time moving from adolescence into adulthood.
Participants will join a group of young people from all walks of life to be inspired, to experience a supportive community of peers and to live together in nature for four days and three nights.
Pre and post camp mentoring and support will help participants to integrate their experience of being on camp into their lives.
After the camp, they will have the opportunity to Join 'Fresh Air Thursdays', our weekly land-skills and nature-based wellbeing group where they can continue to develop friendships and practice new skills and passions.
This camp is hosted by the experienced facilitators of The Birch Collective. To find more about our team, our skills and experience please click here.
Benefits:
Increased confidence and self esteem
Opportunity to meet new people and develop a support network
A deeper connection to yourself, nature and a wider community of young people
Increased sense of wellbeing and resilience to meet the challenges of life
Reflection time to consider next steps in life
Empowered to make positive changes
Enhanced communication skills
Acquisition of new and transferable practical skills
Who is it for:
Suitable for young people aged 18-25 who:
Have low-level mental health issues
Are struggling to engage with study or work
Are experiencing loneliness or isolation
Would benefit from coming on this camp
What to expect:
Natural Craft
Survival Skills:

Weaving
Pottery
Green woodwork

Fire lighting
Cooking on an open fire
Archery
Foraging
We will also introduce some basic nature based stress reduction techniques
When:
1st – 4th September 2022
Pre & Post camp meeting dates tbc
Where:
Brown Rock Farm in Tickenham, 5 minutes from Clevedon. We will be camping in 50 acres of private woodland with beautiful views over the Somerset Levels
The land includes a tree top platform, an outdoor kitchen, fire pit, cosy round house and toilet for our personal use.
A free minibus will transport participants from central Bristol and we can loan camping equipment. All food is included free of charge (3 vegetarian meals a day) and we will cater to dietary needs.
Referral process:
Places are limited to 12 and must be booked in advance:
1. If you have any questions email amy or call 07936784637
2. To apply, fill in the interest form (attached to this email) by Friday 12th August at 12 midday and send to amy. Please note that filling in an application form doesn't guarantee you a place. In the afternoon of the 12th August we will review the applications and choose a group based on who we think will benefit most. We will let you know if the young person you have referred has a place the same day and will contact applicants to let them know either way.
Please share this message to anyone you think would be interested and please let me know if you would rather not be emailed.
All the best,
Amy
This camp is made possible by generous funding from The National Lottery Community Fund, Quartet Community Fund and Necessity.