From: Andy Chaggar <andy.chaggar@talentrise.org>
Sent via Ways2Work
Dear all,
Hope you're well and had a brilliant Jubilee weekend. Thanks so much to everyone who's referred young people for the previously circulated Data & Customer Service Apprenticeships (original email below).
This is a bit of a moving target in that the employer is now offering rolling starts between Jul and Sep, as well options for fully remote roles (from anywhere in the UK) OR hybrid positions in Bristol, Doncaster and Leeds.
Salary is £22,672 (including 9% pension) and it's worth noting this programme involves learning how to use data, not analyse it – so young people don't need to be number crunchers.
Candidates must:
have good listening skills and be able to adapt their approach
want to provide great customer service (no experience is needed, but a supportive instinct and desire to learn is important)
basic IT skills, an internet connection and private space to work from home some of the time
Note: there are no academic requirements – not even GCSEs
There is more info below and I am also attaching:
The full job spec
A social media image
A short brochure detailing key info including the benefits
Please feel free to share all this info with young people aged 30 and under, and other organisations as you feel appropriate.
If you or potential candidates have questions please don't hesitate to contact me directly via email or on 07585 984 810. I'm always happy to have an informal chat and/or to reach out directly to young people if you have permission to share their info with me.
Warm regards,
Andy
Level 3 Data & Customer Service x 48 – Anywhere in UK or Hybrid in Bristol, Doncaster or Leeds
Market leading insurance company with award-winning training programme
Roles start between Jul and Sep, 2022 with a starting salary of £22.7K including 9% pension.
No academic requirements but candidates must be good listeners who care about customer service and supporting others
Basic IT skills are needed to work from home
Information on the Talent RISE website (includes attached job spec and social media image)
Applications are rolling until further notice but we encourage people to reach out ASAP
Talent RISE can help with improving CVs and coaching through employer assessments
Andy Chaggar
Talent RISE Director // Maker
andy.chaggar
+44 (0) 7585 984 810
City Pavilion, Cannon Green Building, 27 Bush Ln, London, EC4R 0AA
Ways2Work
For employment support professionals
Visit One Front Door for employment support in Bristol for individuals, providers and employers.
Find us on ways2work to contact us or unsubscribe.
Bristol City Council Employment Support: Future Bright, Kickstart, One Front Door, Ways2Work, We Work for Everyone.
You have received this email from the daily Ways2Work mailing list. Ways2Work sends emails about employment support and related services available in the West of England. Please use details provided by the original sender to ask for more information or refer customers to provision.
The content of this email is sent for information only. Bristol City Council does not necessarily endorse or support its contents.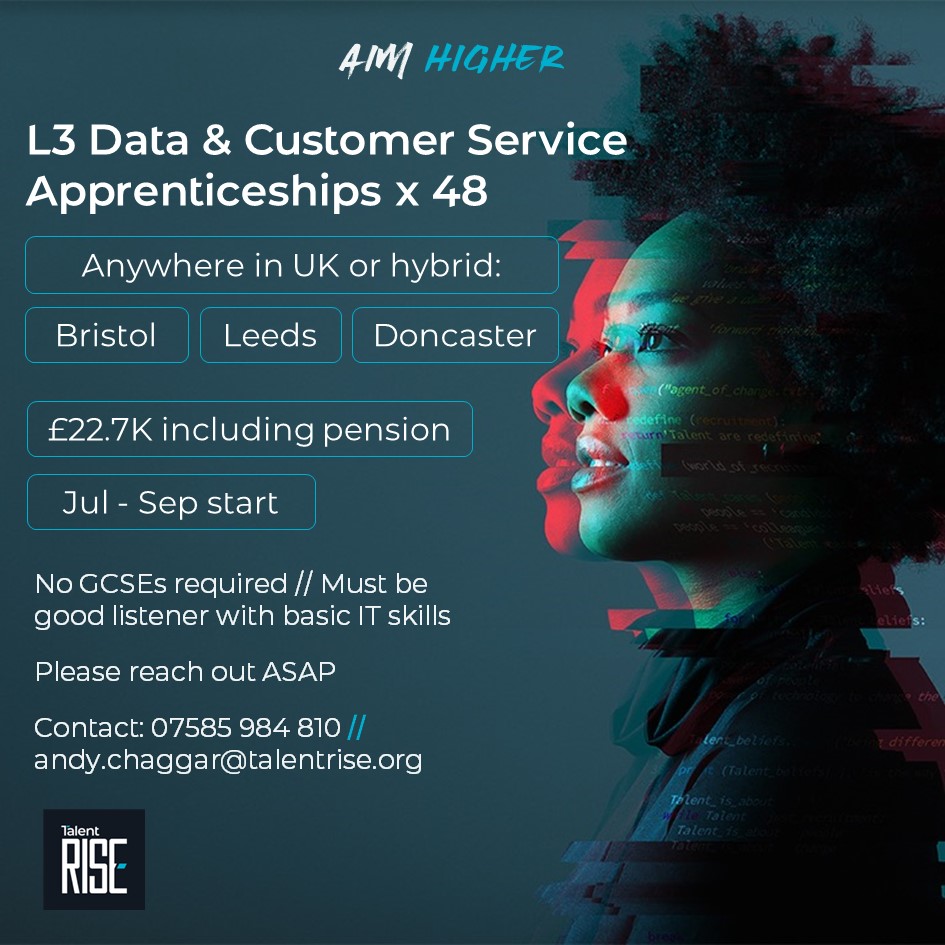 20220531 – Talent RISE Opportunity Description (DL005).pdf
20220601 – RISE – L3 Data and Customer Service x48.pdf