From: Monika Sandhu <Monika.Sandhu@dimensionstrainingsolutions.co.uk>
ZjQcmQRYFpfptBannerEnd
We have two courses starting next Monday 11th July that may be of interest to you all!
Teaching Assistant Course
L1 Award in Preparing to work in schools
L2 Award in Support work in schools and colleges
Other bolt-on courses available
Guaranteed interview!
SIA Course
L1 Diploma in Personal Development for Employability
L2 Award in Door Supervision
L3 Emergency First Aid
Guaranteed interview!
Please see our flyers to find out more!
Many Thanks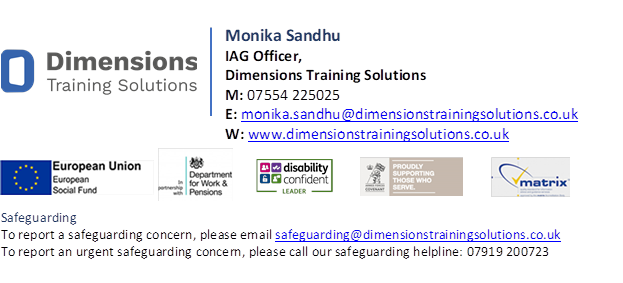 Ways2Work
For employment support professionals
Visit One Front Door for employment support in Bristol for individuals, providers and employers.
Find us on ways2work to contact us or unsubscribe.
Bristol City Council Employment Support: Future Bright, Kickstart, One Front Door, Ways2Work, We Work for Everyone.
You have received this email from the daily Ways2Work mailing list. Ways2Work sends emails about employment support and related services available in the West of England. Please use details provided by the original sender to ask for more information or refer customers to provision.
The content of this email is sent for information only. Bristol City Council does not necessarily endorse or support its contents.