From: Monika Sandhu <Monika.Sandhu@dimensionstrainingsolutions.co.uk>
Dear All,
To celebrate Mental Health Awareness Week beginning today, Dimensions Training Solutions are launching our Mental Health Career course on Wednesday 25th May 2022. Comprising of a Level 1 award and two Level 2 certificates, it is designed to get unemployed individuals prepared for a career path in Mental Health.
Please see our *revised* flyer attached for our start date on Wednesday 25th May.
Kind Regards,
Monika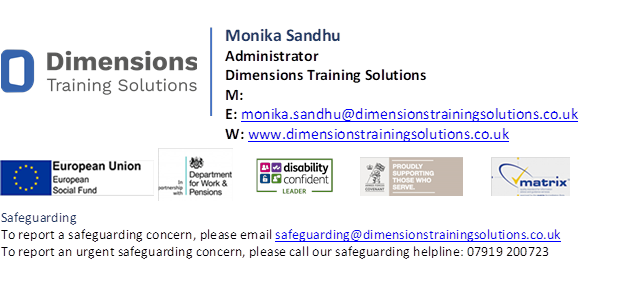 Ways2Work
For employment support professionals
Visit One Front Door for employment support in Bristol for individuals, providers and employers.
Find us on ways2work to contact us or unsubscribe.
Bristol City Council Employment Support: Future Bright, Kickstart, One Front Door, Ways2Work, We Work for Everyone.
You have received this email from the daily Ways2Work mailing list. Ways2Work sends emails about employment support and related services available in the West of England. Please use details provided by the original sender to ask for more information or refer customers to provision.
The content of this email is sent for information only. Bristol City Council does not necessarily endorse or support its contents.