From: Monika Sandhu <Monika.Sandhu@dimensionstrainingsolutions.co.uk>
Sent via Ways2Work
Good Afternoon,
I am writing on behalf of Dimensions Training Solutions with a final reminder about our Breakfast Networking Event which is now in less than two days!
We would love for you, your colleagues, anyone you know in a relevant field, or any prospective learners to join us on WEDNESDAY 11TH MAY at Whitefriars Business Centre in Bristol.
This is the chance to come and meet the team, chat with our learners, network with other providers and employers and find out more about the Skills Support for the Unemployed and Your Time NEET contracts.
If you haven't already and are interested in coming, make sure to book your space at our breakfast networking event below:
LINK HERE: https://www.eventbrite.com/e/bristol-breakfast-networking-event-tickets-328779728017
Please see the flyer attached for more details.
Kind regards,
Monika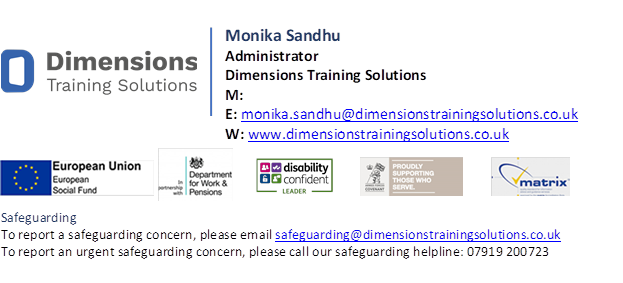 Ways2Work
For employment support professionals
Visit One Front Door for employment support in Bristol for individuals, providers and employers.
Find us on ways2work to contact us or unsubscribe.
Bristol City Council Employment Support: Future Bright, Kickstart, One Front Door, Ways2Work, We Work for Everyone.
You have received this email from the daily Ways2Work mailing list. Ways2Work sends emails about employment support and related services available in the West of England. Please use details provided by the original sender to ask for more information or refer customers to provision.
The content of this email is sent for information only. Bristol City Council does not necessarily endorse or support its contents.