Cycle September starts on 1st September and runs for the whole month. It's Love to Ride's main event and is a great opportunity to get motivated, stay active, log your cycling journeys and win prizes! There are loads of national and local prizes up for grabs, including bike shop vouchers, food vouchers and cycling gear! Join at www.lovetoride.net/bristol – its free!
You can sign up and take part with your workplace too, providing encouragement to colleagues on your workplace page, and even compete on the workplace leaderboard, just state your organisation name when you join. If you are interested in promoting within your workplace, there is a staff resource pack available here for download with lots of resources like the cute dog pic! 😊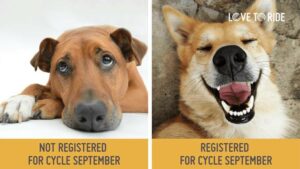 This year we are also running a Bristol Scavenger Hunt, where you can tick off Bristol landmarks you have visited by bike during September and share progress and photos using #LovetoRideBristol on social media. There will be 4 x £50 Good Sixty vouchers up for grabs just for taking part and a bonus prize for best photo! Download the scavenger hunt card here once Cycle September begins!